Critique - Rale Nišavić 2018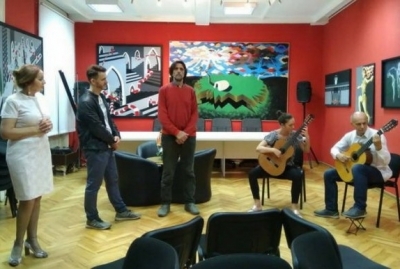 More about exhibition
A big storm on Friday, June 29, prevented our fellow citizens from attending the opening of the magnificent exhibition of Dušan Savković, a master of painting from Novi Sad.
__________________________________________
The present visitors were warmly greeted by the director of the Library, Koviljka Dobrić, emphasizing that the exhibition will be open until July 10 so that our fellow citizens can enjoy the paintings that really leave no one indifferent.
As usual, members of the Classical Guitar Club "Akord", Jelena Čapanda and Marko Šalić participated in the musical part of the program. With an excellent selection of compositions and a fantastic performance, they completed this evening as well.
The exhibition was opened by the writer Rale Nišavić, who spoke about the work of the young painter, and wrote in the review: stumbling. He is not alone in the expression and expression of the world that he intensively offers to the chosen admirers of his painting that is being created today, and it is approximately articulate to modern literary expression…
He, like any independent artist, nurtures his own poetics that makes him recognizable. This is evident in his new paintings on small and large canvases, which have Savković's recognizable poetics. That darkened expression of his sharp lines of dark black surfaces adorned with embroidery, contrasts of bright red color, a distinct flow of pulsations of life, the world, birth. It is his poetics, with the humorous flames of the just indicated merriment, the great enlightenment of life.
Savković's basic starting point is a concrete expression, a house, a building, a door, windows, corridors, verandas that serve no purpose, but are also services to entertainment, life, the artist, his sarcasm, jokes, mockery. Own charm. Everything is more visible than the poor people, who are only present here, known to the artist himself in a constant way.
Things are more important than small people, it is actually an idea, the very poetics of this painter. It is also the poetics of this consumer time, a world that is satisfied with the unimportant… "
www.bibliotekabackapalanka.com/index.php/dogadjanja/izlozbe/688-crno